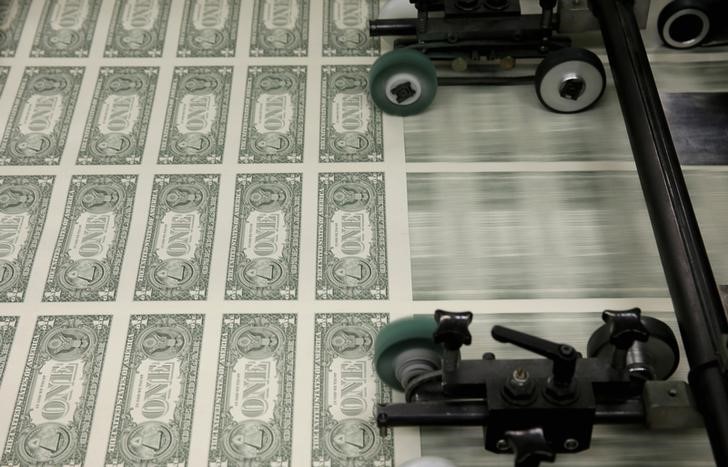 © Reuters. Dollar loses ground vs. other majors on Yellen dovish stance
The dollar moved lower against the other major currencies on Wednesday, after Federal Reserve Chair Janet Yellen dampened expectations for an upcoming U.S. rate hike.
EUR/USD rose 0.20% to 1.1318.
In a speech at the Economic Club of New York, Yellen said global risks to the U.S. economy, including low oil prices and uncertainty over China justified taking a cautious approach to tightening monetary policy.

The comments contrasted with recent remarks by some Fed officials who indicated that the bank could act as soon as next month to raise interest rates.
USD/JPY declined 0.33% to trade at 112.32.
Earlier Wednesday, data showed that Japan's factory output posted the largest drop in February since a massive earthquake and tsunami in 2011 hit the supply chain, adding to fears that the economy is at risk of falling into a recession.
The dollar was little changed against the pound, with GBP/USD at 1.4385 and was lower against the Swiss franc, with USD/CHF shedding 0.29% to 0.9640.
The KOF Economic Research Agency said earlier that its economic barometer fell to 102.5 in February from 102.6 the previous month, whose figure was revised up from 102.4.
Analysts had expected the KOF economic barometer to fall to 101.9 last month.
Meanwhile, the Australian and New Zealand dollars were stronger, with AUD/USD up 0.38% at 0.7656 and with NZD/USD rallying 0.95% to a five-month high of 0.6916.
USD/CAD slipped 0.20% to trade at 1.3047.
The commodity currencies found support as oil prices rebounded on a smaller than anticipated rise in crude oil stockpiles last week.
The U.S. dollar index, which measures the greenback's strength against a trade-weighted basket of six major currencies, was down 0.22% at 94.96, the lowest since March 18.