"Are we seeing Brexit jitters at work now? Whilst UK consumers remain resolutely upbeat about their personal financial situation, concerns about prospects for the general economic situation continue to dampen our mood"
–  GFK


The UK consumer confidence declined to the lowest level in more than a year amid fears that Britain might vote to exit the European Union. GfK's consumer-confidence index was at zero in March. A measure of expectations for the economic situation over the next 12 months was minus 12, remaining unchanged on the month and plummeting 18 points from a year earlier. However, consumers were more optimistic about their personal finances. A separate indicator of confidence produced by pollsters YouGov and the Centre of Economics and Business Research levelled off. It came in at 113 in March, up slightly from 112.9 the month before. While consumers are still sanguine on house prices, anticipating them to go up, YouGov's data showed they are more downbeat on business activity in their workplace over the next year. Economists say the government's decision to hold the EU referendum is another, home-grown, threat which is likely to undermine confidence in the run-up to the vote on June 23. If voters decide to leave the EU, Britain is likely to suffer a hit to growth, at least in the short term, most economists predict.
The Bank of England said earlier in the week that the prospects for financial stability have worsened as it put the risk of a Brexit at the top of its list of near-term domestic threats.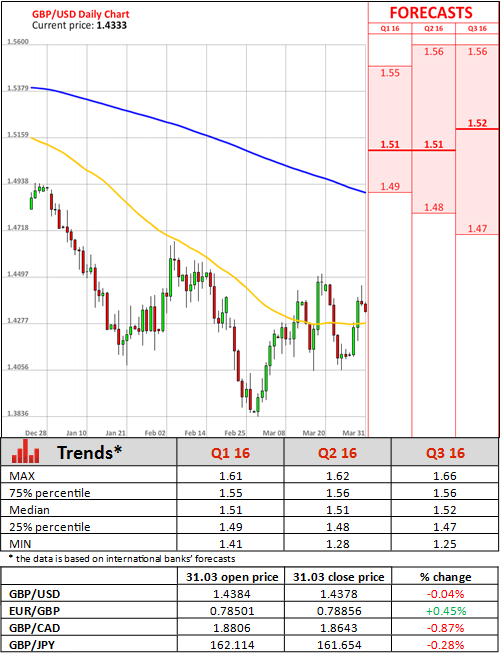 © Dukascopy Bank SA